Trojan Solar Battery - SPRE 12v 225AH Flooded
Trojan is dedicated to designing and building premium maroon, Trojan-branded deep-cycle batteries for a variety of applications. The Trojan SPRE 12 255 12V Flooded battery offers top-notch performance, engineered to withstand the most rigorous conditions of renewable energy applications and usage. As one of the best Trojan battery for solar, the technology of this battery provides superior cycling, improving energy output and enhancing excellent productivity at work. 
START YOUR ORDER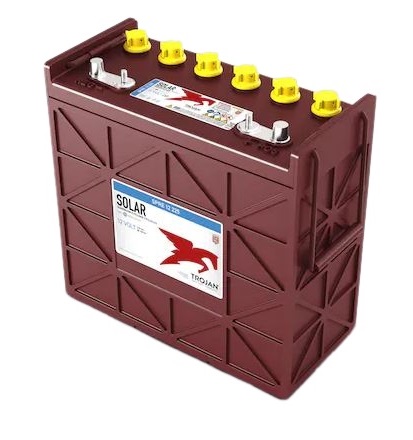 Trojan Battery Distributor in Nigeria
We are a leading trojan battery dealer in Nigeria with distributors across the country. For more than 85 years, Trojan Battery has focused its experience and expertise in deep-cycle technology on manufacturing the finest quality, deep-cycle batteries for solar and other applications available in the industry.
If there is one thing we've learned over the years as a company, it's that a truly outstanding battery must provide rugged durability, long life and reliable performance day in and day out. That is exactly what Trojan battery offers.
If you are looking for  Trojan batteries for solar systems to get that durable installation with maintenance-free capability, trojan flooded battery (SPRE 12v 225AH) is your best bet.
Trojan Battery SPRE 12V 225AH  Main Features
Maxguard® XL Separator and Alpha Plus® paste formulation for long life, industry-leading performance, and lower overall maintenance costs.
Polyon ultra-rugged case design protects against damage caused by harsh environmental conditions and safeguards against potential acid leaks.
DuraGrid design provides a thick grid structure that resists corrosion.
Shock and vibration resistant
Horizontal and vertical installations
No watering required for a non-spillable experience.
Less than 3% self-discharge per month
Kindly fill the form below to order for any product or make an inquiry about our product.

© 2019 All rights reserved. Gennex Technologies Limited is Nigerian's leading renewable energy company with head office in Lagos.
Head Office
Plot 25, Adebisi Ogunnuyi Crescent, off Oladimeji Alo Street, Ikate, Lekki, Lagos
Front Office: 012934490
Hotline Sales
+2348171936361, 0817 946 2854
WhatsApp: +2348171936361, +2348091023041