Solar Products & Solar Accessories
We are a leading solar company in Nigeria and a major installer and dealer of solar products like solar panels (400W – 660W), Solar inverters (1.2kva – 10kva), Solar batteries, MPPT solar chargers, Online UPS, Rechargeable solar fans with solar panels, Solar street lights, LED bulbs, Surge arrestor, and a wide range of solar accessories for better installation.
Request More Information
Canadian Solar Panels
Canadian Solar Panel's innovative Mono and Poly Crystalline Panels module cell technology can now offer small format high-density modules of very high efficiency. With a 30+ years warranty, our panels are the most desirable in the market today.
Jinko Solar Panels
Range of quality Jinko solar panels with 30-plus years warranty, enhanced reliability, outstanding low light performance, lower operating temperature, exceptional PID resistance, high compatibility, and more.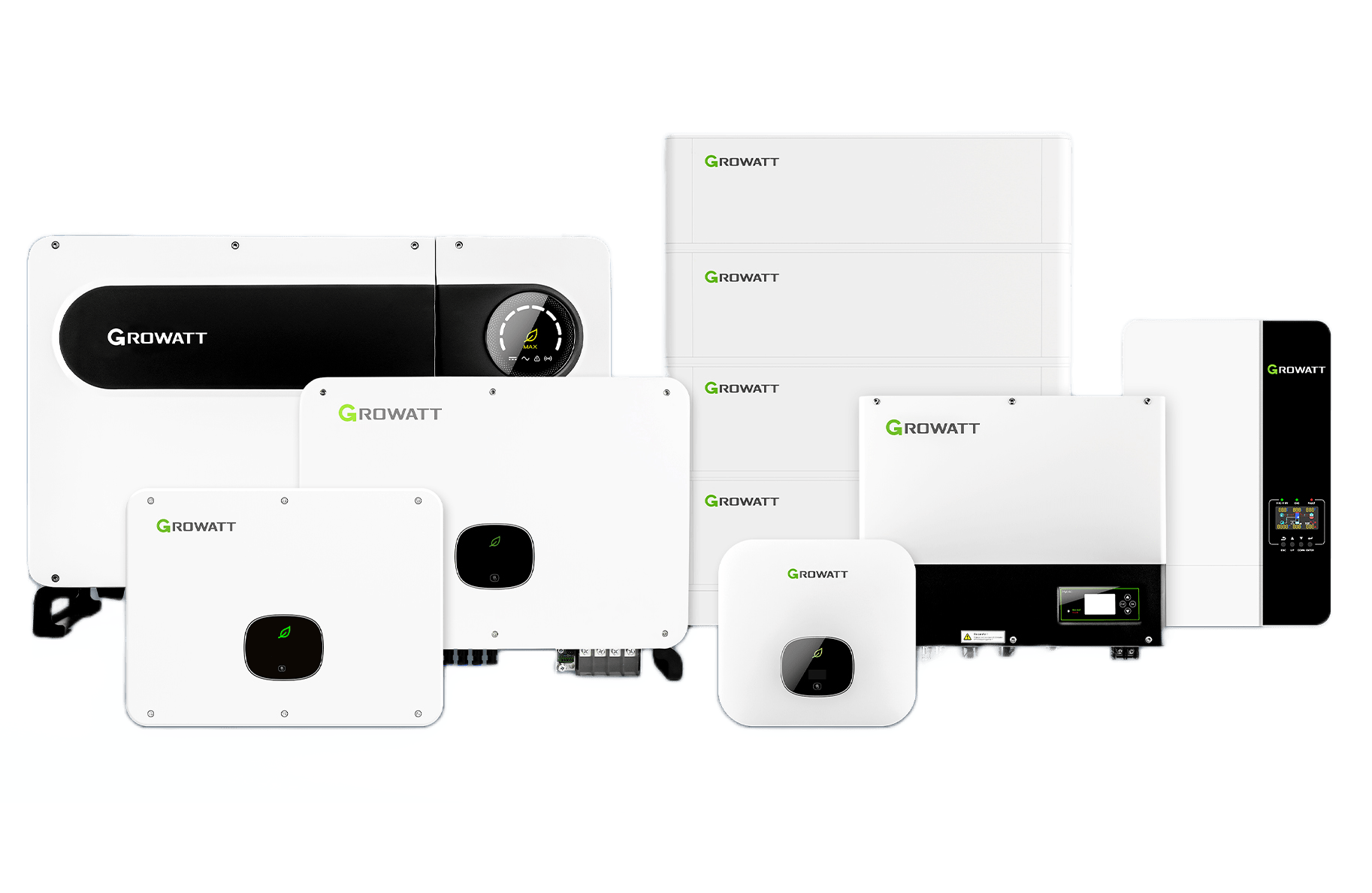 Growatt Inverters
Growatt offers a comprehensive lineup of intelligent solar inverter solutions suitable for residential, commercial and utility-scale solar installations. Our range of Growatt innovative string PV inverters possesses a variety of capacities to ensure you have the perfect match for your solar energy needs.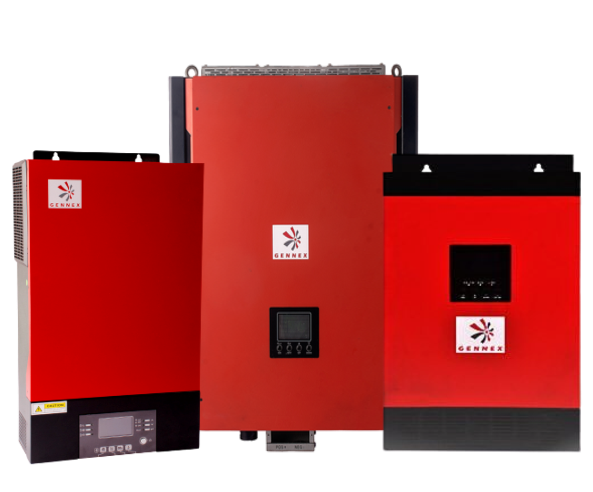 Hybrid Inverters
Gennex Hybrid Inverters are manufactured from the very latest technology used in the industry globally. With Inverters ranging from 1.2KVA – 10KVA, our energy storage inverter is applicable with both on-grid and off-grid PV systems. Created with a variety of user-friendly features, our Inverters are a symbol of convenience and comfort.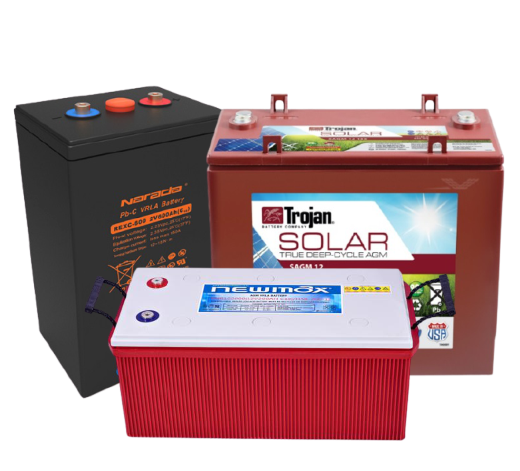 Deep-Cycle Inverter Batteries
Our deep cycle solar batteries are created for optimum efficiency and extended life span. Lithium, Trojan and Newmax inverter batteries with 10-plus years life span and industry best warranty. We sell and supply dry cell solar batteries of various capacities from the best manufacturers in the world.
Whether you are looking for Lithium, AGM deep cycle battery, dry cell solar battery, 12 volt solar battery, 2v inverter battery, etc, we stock the best kind of solar panel battery to make your installation last longer. You can order a deep cycle solar battery here or locate a distributor closest to you.
Online Uninterruptible Power Supply
Gennex Online UPS are manufactured using the latest inverter technologies, they are designed to protect critical loads such as servers, data processing IT systems, telecoms networks, etc.
This plug and play UPS employs dual conversion online technology to deliver a filtered, stabilised, and consistent output voltage to ensure consistent and efficient function capacity. They come in 2KVA, 3KVA and 6KVA with true double-conversion, microprocessor control optimizes reliability, input power factor correction, easy maintenance, battery mode alarm, voltage regulation, etc.
External MPPT Solar Charge Controllers
Compared to traditional solar charge controllers, it allows your solar panels to operate at their optimum power output voltage, providing higher efficiency up to 98% with lower power loss.
When integrated with inverter, solar panel(s), and external battery packs, it can become a standalone solar power system to generate green power for your home appliances.
Multi-Functional Power Gateway
Gennex multi-functional power gateway to serve in protecting your home or industrial appliance from power surges of all kind and function as the perfect change over box.
The device is used for seamless interconnection of different power sources i.e. utility, generator, solar etc. The first of its kind in the Nigerian market, this device enables safe and easy selection between available sources (solar, generator or grid).
Gennex Variety of Led Bulbs
Gennex energy saving leb bulbs are designed with state-of-the-art facilities to give your home and business premises that desirable bright shine while saving energy massively at the same time.
Our led bulbs are a variety of indoor and out door lighting that shines brighter while consuming lower energy.
They are your ideal energy saving bulbs to cut electricity cost.
Rechargeable Fans With Solar Panel
Gennex Technologies rechargeable solar fans with panels are the new innovative solar fans manufactured with state of the art machinery.
Gennex Solar Rechargeable Fan Keep your home cool and conducive for you to stay in a good weather condition. The fan solar battery can provide cool breeze throughout the day the help of the solar panel which is exposed to sunlight, and at night the batteries can run for 10 – 11hours when fully charged.
Solar Mount Accessories
We deal in various Solar Panel Mount Accessories like Solar Mount Rails, End Clamps, Mid Clamps, Splice Bar, Serrated L Foot,  etc.
MC4 Connectors
Gennex Technologies also sell MC4 Connectors BA21, BM21, BM31, CC4K and CC10K for your solar congiguration and installations.
Other Products
Other products we deal in at Gennex Technologies to ensure smooth installation and enjoyment of solar energy includes AC Surge Arrestors (Single Phase & 3-Phase), DC Circuit Breaker (Single Phase & 3-Phase) 1000V-20A, DC Surge Arrestor 120V, DC Surge Arrestor 800V and Enclosed Battery Rack.
Kindly fill the form below to order for any product or make an inquiry about our product.

© 2019 All rights reserved. Gennex Technologies Limited is Nigerian's leading renewable energy company with head office in Lagos.
Head Office
Plot 25, Adebisi Ogunnuyi Crescent, off Oladimeji Alo Street, Ikate, Lekki, Lagos
Front Office: 012934490
Hotline Sales
08171936361, 08179462854 
WhatsApp: +2348171936361, +2348179462854