LiFePO4 Lithium Batteries
Gennex Technologies Limited is a Nigeria market leader in lithium iron phosphate battery sales. We import, supply and sell LiFePO4 Lithium Batteries with a chain of distributors network across the country. Lithium iron phosphate (LiFePO4) technology results in a battery cell that allows the most charge-discharge cycles. Also, unlike lithium-ion battery technology, LiFePO4 prevents possible fire risks and explosions caused by overheating.
Gennex SVC LiFePO4 lithium batteries range offers many advantages over other solar batteries. With a built-in intelligent BMS, performance optimisation and emphasis on safety by automatically balancing cells and protecting them from overcharge, over-discharge, over current, short circuit, high and low-temperature protection functions, you get the very best.
Whether you want LiFePO4 100ah or LiFePO4 200ah, have you covered.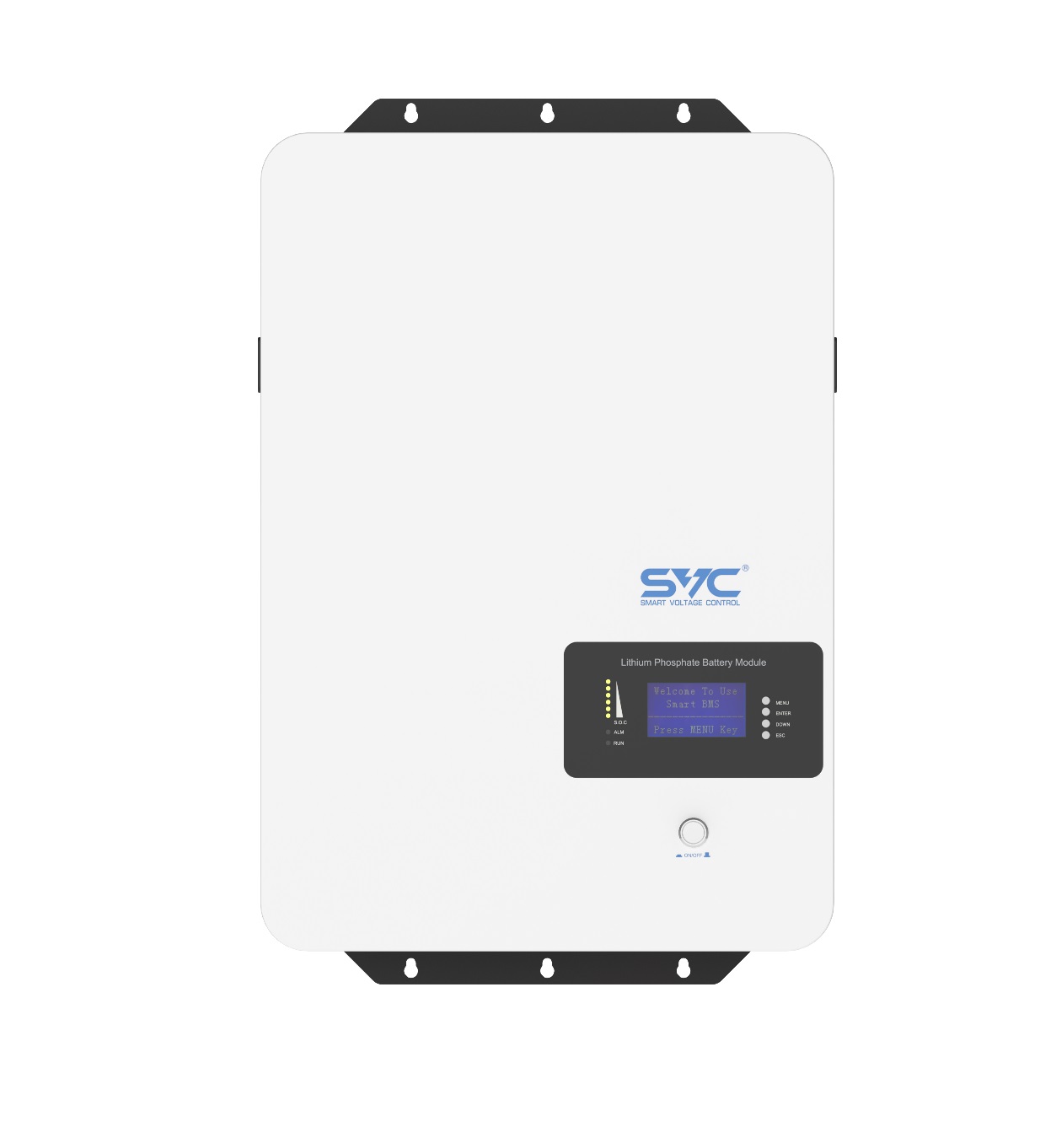 LiFePO4 10kWh- 48V 200AH Lithium Battery (BMV Series - Wall Mounted)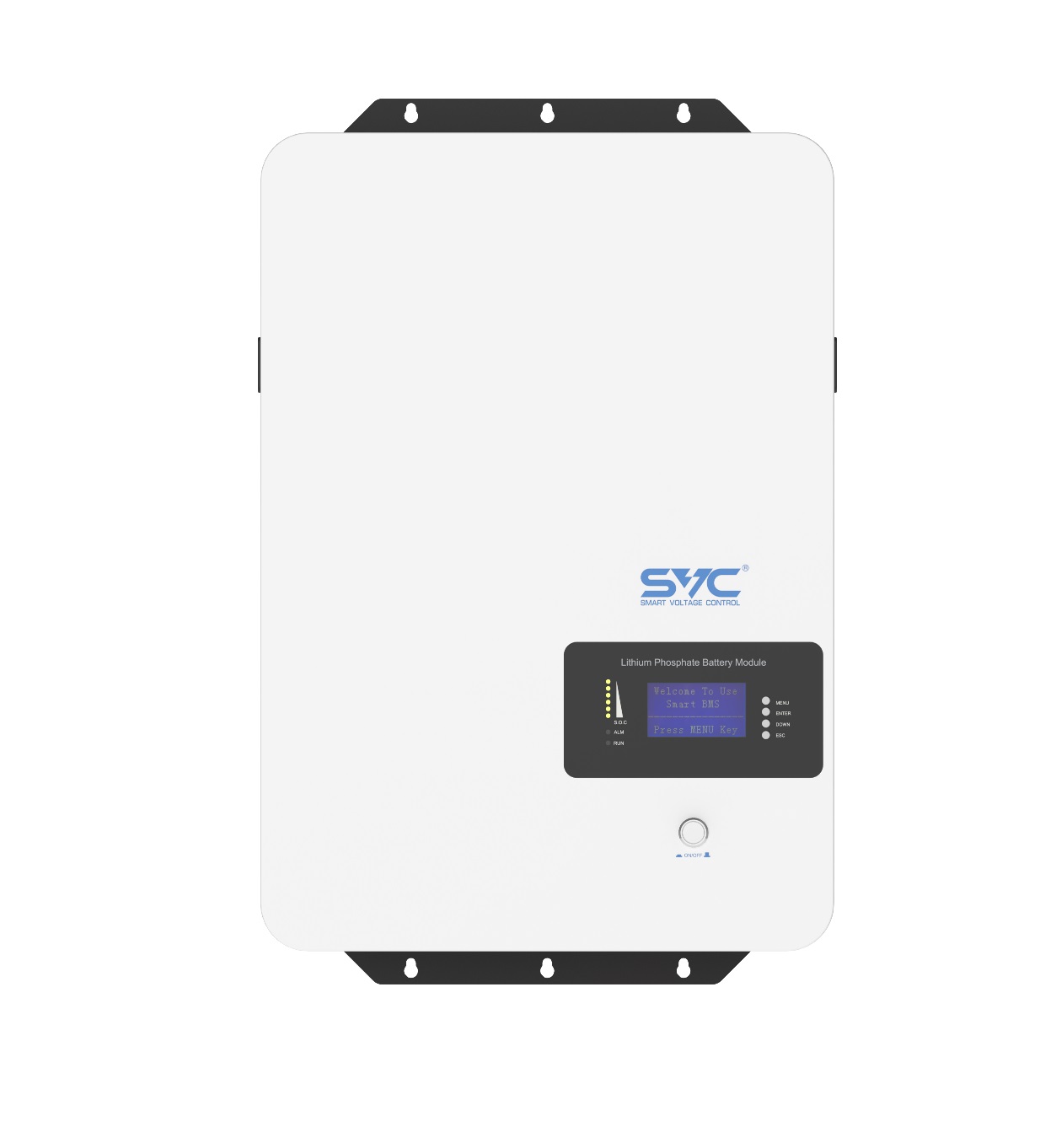 LiFePO4 5kWh- 48V 100AH Lithium Battery (BMV Series - Wall Mounted)
10kWh- 48V 200AH Lithium Battery (BMF Series - Floor Mounted)
LiFePO4 5kWh- 48V 100AH Lithium Battery (BMR Series - Rack Mounted)
Benefits of LiFePO4 Lithium Batteries
Advantages of best LiFePO4 battery include fast charging, longer lifespan or service life, adequate temperature protection, and high cycle life, making them perfect for demanding solar and backup applications. Their mmart cell technology allows each battery to provide high power over a short period or lower power over a long period. Key benefits of LiFePo4 batteries includes:
Recyclable
Sustainable power and performance
Enhanced safety and reliability
Longer life span/charging cycle life
Maintenance free
High-efficiency performance and more
Main Features and Specifications of SVC LiFePO4 Lithium Batteries
Nominal battery voltage 51.2 volts
LiFePO4 built-in battery management system (BMS)
Cutting-edge design & technology
Stainless steel explosion-proof battery cells + high-pressure safety vent
Battery pack round trip efficiency 95%
Protection against high/low voltage, reverse polarity, and short circuit
Automatic cell equalisation
Drop-in design to replace most Lead Acid, Gel or AGM batteries.
Scalability Up to 8
Peak Discharge Current(A) : 150A 1Sec
Long lifespan: 10 years + life design
3U rack structure design for easy installation
Pure sine wave output, can meet various types of requirements.
Built-in MPPT solar controller (BMD Series)
The priority level of photovoltaic, utility power and battery is selectable
1P65 protection suitable for outdoor or Indoor Installation
Much more
Why Choose SVC LiFePO4 Lithium Batteries for Your Solutions?
SVC lithium batteries (lifepo4) have greater capacity compared to lead-acid batteries. They offer very high performance and cost less in comparism to some other batteries.
SVC LiFePO4 batteries charge way faster than a lead-acid/AGM battery.
Great manufacturer's warranty
Lithium Phosphate (LiFePO4) battery technology is the safest available.
Choose from our available lithium battery range to match your solution size, voltage and AH requirements.
Industries that Use LiFePO4 Batteries
SVC LiFePO4 lithium batteries range is ideal for various applications, including:
On-grid and off-grid solar application
Commercial and residential solar
UPS systems (uninterrupted power supply), solar battery storage
Sever and ATM powering and more
How to Choose the Best Lithium Battery?
Battery Discharge Rate: It's essential to ensure that the LiFePO4 battery you choose has an appropriate discharge rate for your intended use. An inadequate discharge rate can lead to overheating and operational issues. Evaluate your power requirements and select a battery with a discharge rate that comfortably meets your needs.
Nominal Voltage Rating: Check the nominal voltage rating of the LiFePO4 Lithium battery to ensure it aligns with the voltage requirements of your application. Mismatched voltages can lead to inefficient operation or potential damage to your equipment. Verify that the battery's voltage rating is compatible with your system.
Safety: Safety is paramount when working with lithium batteries. Make sure the battery you select has undergone rigorous testing and certification like the ones above to guarantee its safety for your specific application. It should comply with all necessary safety regulations and standards to prevent accidents or hazards.
Capacity and Energy Requirements: Consider the capacity and energy requirements of your application. Different applications have varying power demands, so choose a LiFePO4 battery with a capacity that suits your needs. Assess factors like discharge time, cycle life, and energy density to make an informed decision.
Size and Form Factor: Ensure that the physical dimensions and form factor of the battery fit within the available space in your application. LiFePO4 batteries come in various sizes and shapes, so pick one that can be easily accommodated. The rack mounted require a rack, the the wall and floor mounted can be installed anywhere on to property to even add beauty.
Temperature Range: Evaluate the operating temperature range of the battery. Some applications require batteries to function in extreme temperatures, so verify that the chosen battery can handle the environmental conditions of your application.

© 2019 All rights reserved. Gennex Technologies Limited is Nigerian's leading renewable energy company with head office in Lagos.
Head Office
Plot 25, Adebisi Ogunnuyi Crescent, off Oladimeji Alo Street, Ikate, Lekki, Lagos
Front Office: 012934490
Hotline Sales
+2348171936361, 0817 946 2854
WhatsApp: +2348171936361, +2348091023041