10kWh LiFePO4 - 48V 200AH Lithium Battery (BMV - Wall Mounted)
The 10kWh 48v LiFePO4 lithium battery by SVC is a state-of-the-art solar energy lithium battery that offers ground-breaking capabilities. Engineered by global leading experts, this lithium solar battery has the most advanced product features currently available in the solar energy space, coupled with unrivalled performance and trusted reliability. Manufactured to withstand the most rigorous conditions of renewable energy applications and usage the 10kWh – 48V 200AH LiFePO4 lithium battery gives you the best value and performance for your installation.
START YOUR ORDER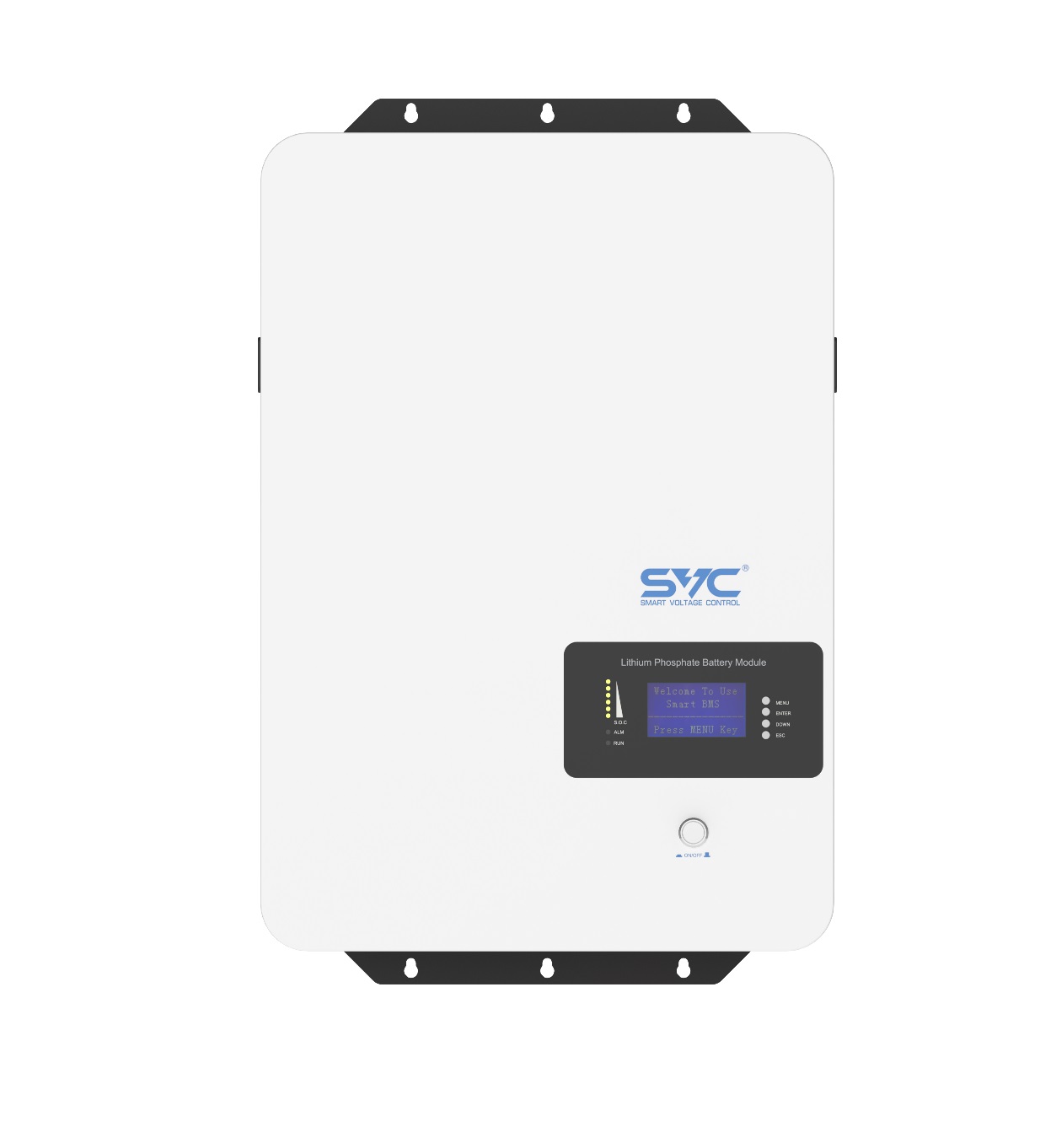 SVC 10kWh LiFePO4 Solar Battery ( Wall Mounted Battery – BMV Series)
As a prominent SVC LiFePO4 Lithium Battery dealer in Nigeria, we take pride in our extensive distribution network spanning the country. The BMV series, stands as a formidable battery module system, setting new standards in advanced power storage solutions for both residential and commercial applications.
The BMV series is equipped with a built-in intelligent Battery Management System (BMS), which not only safeguards the battery pack but also significantly prolongs its service life, ensuring a reliable and efficient power storage solution.
This 10kWh – 48V 200AH LiFePO4 Lithium battery boasts outstanding performance, featuring a modular design that can be easily mounted on your wall and give it beauty like an air conditional. This design allows for scalable battery storage solutions, making it versatile and well-suited for a wide spectrum of storage applications. Embrace the future of energy storage with our BMV series.
10kWh – 48V 200AH Lithium Battery Main Feature
Long lifespan: 10 years + life design
Elegant and Stylish, wall-mounted installation
High protection measures, built-in Aerosol active fire protection module, thermal runaway detection and active fire protection
The priority level of photovoltaic, utility power and battery is selectable
1P65 protection suitable for outdoor or Indoor Installation
Communication: RS485/CAN/SNMP k)/Wifi/Bluetooth, Compatible with different brand of solar inverter and chargers
It has a wide range of selectable mains input voltage.
Cells cycle times 6000 cycles (+25°C 0.2C 80% DOD)
Smart BMS system to optimize performance
Cold Start Function supported
360 degree protection: such as SOC/SOH, over-discharge, overload, over-temperature, short-circuit protection
With front display panel for easy access to status of the batteries
High discharge rate currents, suitable for on-grid or off-grid solar system and other loads.
Good extendibility, 2.5kWh each, easy extend to 5kWh/10kWh/ 15kWh/ 20kWh etc.
Kindly fill the form below to order or make an inquiry about our product.

© 2019 All rights reserved. Gennex Technologies Limited is Nigerian's leading renewable energy company with head office in Lagos.
Head Office
Plot 25, Adebisi Ogunnuyi Crescent, off Oladimeji Alo Street, Ikate, Lekki, Lagos
Front Office: 012934490
Hotline Sales
+2348171936361, 0817 946 2854
WhatsApp: +2348171936361, +2348091023041