Jinko 550w Solar Panel (Tiger Pro Jkm550m 72hl4)
The Jinko solar 550w panel is one of the prime monocrystalline solar panels manufactured by Jinko and is available for wholesale, retail, and nationwide distribution. Monocrystalline solar panels are the best kind of solar panels with higher efficiency rates that make them outperform other types of solar panels. The Jinko 550w solar panel with 2278×1134×35mm (89.69×44.65×1.38 inch) dimensions, is a first-rate monocrystalline solar panel made out of the highest-grade silicon. It has up to 21.29% efficiency, making it perfect for domestic and commercial on/off-grid solar installations.
START YOUR ORDER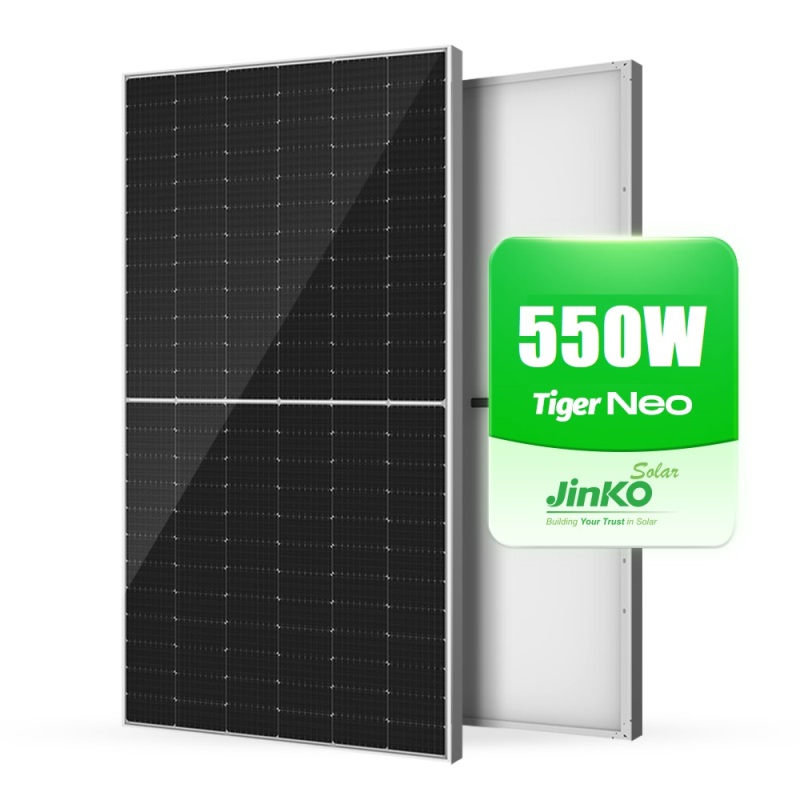 Jinko Solar 550w (Tiger Pro 72HC)
Jinko Solar's products are known for their high quality and reliability. The company has been listed as a Top Performer for seven consecutive times in the PVEL PV Module Reliability Scorecard. Jinko business covers the core links of the photovoltaic industry chain, focusing on the R&D of integrated photovoltaic products and integrated clean energy solutions.
The Jinko 550w solar panel has an optimized temperature coefficient capability, making it able to generate 2% more power than other panels under high temperatures. The Tiger Neo and pro solar panels series by Jinko feature top-notch well-engineered module design, stringent quality testing, better light trapping and current collection to improve module power output and reliability, etc. 
If you are looking for the perfect solar panel for on or off-grid installation in Nigeria, the Jinko solar 550w is your perfect option.
Jinko Solar 550w Solar Panel Main Features
Multi Busbar Technology
Better light trapping and current collection to improve module power output and reliability.
Reduced Hot Spot Loss
Optimized electrical design and lower operating current for reduced hot spot loss and better temperature coefficient.
Durability Against Extreme Environmental Conditions
High salt mist and ammonia resistance.
Enhanced Mechanical Load
Certified to withstand: wind load (2400 Pascal) and snow load (5400 Pascal).
Longer Life-time Power Yield
0.55% annual power degradation and 25 year linear power warranty.
0.55% Annual Degradation Over 25 years
550W module efficiency up to 21.76%
12 years product warranty
25 years linear power output warranty
Jinko solar 550w price: ₦ 149,500
Prime Half Cut Monocrystaline
Ultra-high Power Generation/Ultra-high Efficiency
Outstanding Low Light Performance
Lower Operating Temperature
Exceptional PID Resistance
Jinko 550 Watts Solar Panels Are Ideal For:
On-grid and off-grid commercial/industrial rooftops
On-grid and off-grid residential ground-mount solar systems
Solar power stations, solar carports
Other on-grid applications
Mechanical Data
Cell Type: P type Mono-crystalline
No. of cells: 144 (6×24)
Dimensions: 2278×1134×35mm (89.69×44.65×1.38 inch)
Weight: 28 kg (61.73 lbs)
Front Glass: 3.2mm,Anti-Reflection Coating, High Transmission, Low Iron, Tempered Glass
Frame: Anodized Aluminium Alloy
Junction Box: IP68 Rated
Output Cables: TUV 1×4.0mm2 (+): 400mm , (-): 200mm or Customized Length
Kindly fill the form below to order for any product or make an inquiry about our product.

© 2019 All rights reserved. Gennex Technologies Limited is Nigerian's leading renewable energy company with head office in Lagos.
Head Office
Plot 25, Adebisi Ogunnuyi Crescent, off Oladimeji Alo Street, Ikate, Lekki, Lagos
Front Office: 012934490
Hotline Sales
+2348171936361, 0817 946 2854
WhatsApp: +2348171936361, +2348091023041