Gennex Axpert King 5KVA Off-Grid Inverter
Gennex Axpert King 5KVA Hybrid inverters are manufactured with cutting edge technologies that makes them more durable and easy to use for on/off grid installations.
START YOUR ORDER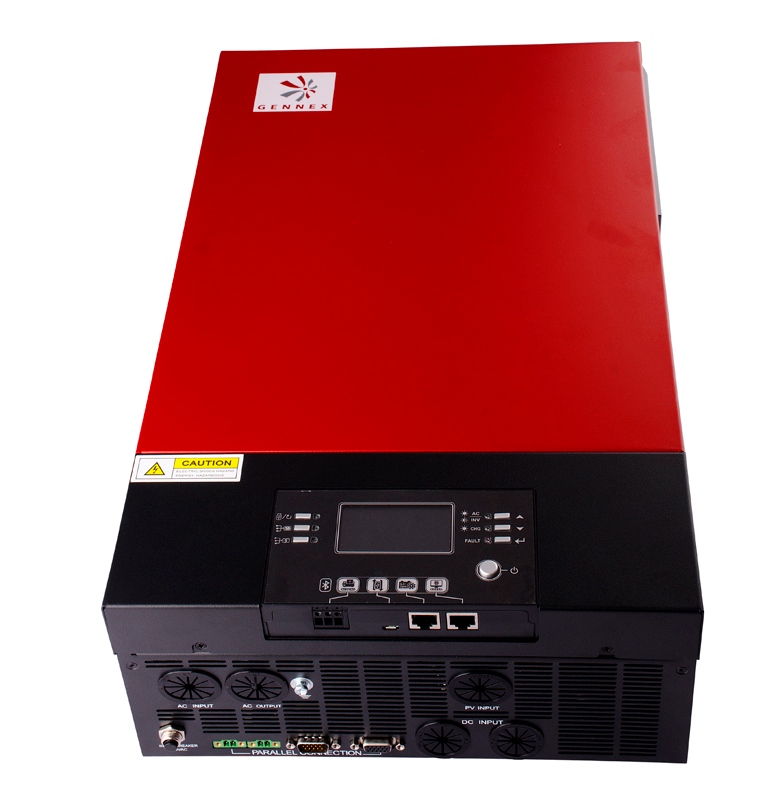 Hybrid Inverter
Our 5KVA Hybrid Inverter are the new trend in superior quality inverter manufacturing. They are laced with tons of upgrade that makes them, more easy to install, user friendly, last longer, adaptable, etc. With Zero Transfer time to protect mission-critical loads such as servers and ATM the Axpert King 5KVA is the best of its kind. Our Inverters are all compatible with mains voltage, solar and generator. Axpert King models, are built in an anti-dust kit for harsh environments and also features a battery equalization function to optimize battery performance and extend their life-cycle.
With our inverters, you get a fully customized power back-up solution that can run everything! With various capacities to meet every need, it's the perfect solution for your homes and businesses of all sizes.
Zero Transfer Time
The Gennex Axpert King 5KVA Off-Grid Inverter comes with Zero Transfer time to protect mission-critical loads such as servers and ATM
Detachable LCD control module with various communication
This detachable LCD control module can be turned to remote panel. Users can install the LCD panels in accessible area away from inverter up to 20 meters.
Power Factor
Improvement from the conventional power systems with power factor of 0.8. Our inverter systems now have  an improved power factor of 1. i.e 5kVA system still equals 5kW
Supports USB On-the-Go function
VM III series supports USB On-the-Go function to facilitate data upload/download
Integrated Bluetooth interface with Android App
VM III series is integrated Bluetooth interface ready for mobile monitoring. It's easy to be configured with a PC or laptop with Bluetooth interface. This technology allows wireless communication up to 6~7m in an open space. Now, WatchPower App is available in google store.
Reserved communication port (RS-485, CAN-BUS or RS-232) for BMS
This third generation inverter is reserved communication port for BMS. For the detailed information, please contact sales directly.
Battery equalization extends lifecycle
This inverter charger is built in battery equalization function. This function will help remove sulfation to optimize battery performance and even extend lifecycle.
Parallel Capability
Parallel capability of up to 9 units to attain higher capacity
User-friendly LCD operation
Users can easily set up or change the charging current,n output source and charger source prioritization through LCD control panel to optimize inverter performance.
Usage Time & Parallel operation
Configurable AC/PV output usage timer and prioritization .Parallel operation up to 9 units
Lithium energy storage
Dedicated communication port compatible with Lithium energy storage.
Kindly fill the form below to order for any product or make an inquiry about our product.

© 2019 All rights reserved. Gennex Technologies Limited is Nigerian's leading renewable energy company with head office in Lagos.
Head Office
Plot 25, Adebisi Ogunnuyi Crescent, off Oladimeji Alo Street, Ikate, Lekki, Lagos
Front Office: 012934490
Hotline Sales
08171936361, 08179462854 
WhatsApp: +2348171936361, +2348179462854