3kva 48v Inverter - Hybrid
Gennex Hybrid 3kva 48v inverters are low voltage Maximum Power Point Tracking (MPPT) inverters with inbuilt solar charge controllers. 
START YOUR ORDER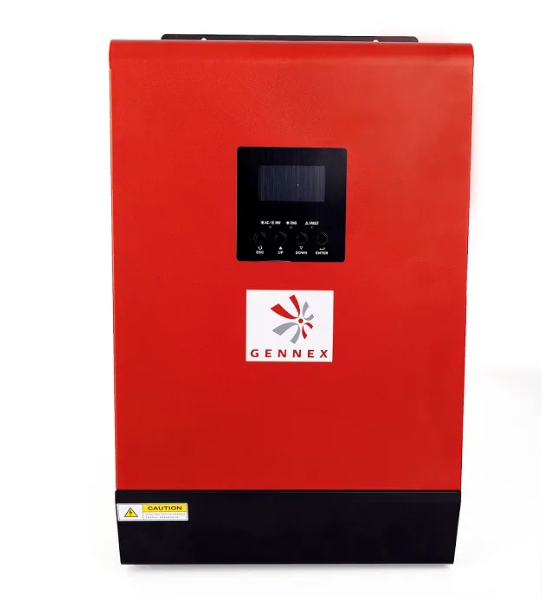 3kva/48v Hybrid Solar Inverter
The 3kva 48v solar inverter is compatible with mains voltage, solar and generator. Gennex 3kva inverter models, are built in an anti-dust kit for harsh environments and also feature battery equalization functionality to optimize battery performance and extend life cycle.
With Gennex Technologies 3kva hybrid inverter, you get a fully customized power backup solution that can run your essential appliances! With various capacities to meet every need, it's the perfect solution for homes and businesses of all sizes.
Battery equalization function to optimize battery performance and extend cycle life.
Built-in MPPT solar charge controller
Output power factor (Variety)
Auto restart while AC is recovering
Smart battery charger design for optimized battery performance
Optional remote panel available
Selectable input voltage range for home appliances and personal computers
Selectable charging current based on applications
Configurable AC/Solar input priority via LCD setting
Compatible with mains voltage or generator power
Overload and short circuit protection
Inverter running without battery
Voltage:  230 VAC
Selectable Voltage Range: 170-280 VAC (For Personal Computers) ; 90-280 VAC (For Home Appliances)
Frequency Range: 50 Hz/60 Hz (Auto sensing)
AC Voltage Regulation (Batt. Mode): 230VAC ± 5%
Transfer Time: 10 ms (For Personal Computers) ; 20 ms (For Home Appliances)
Waveform: Pure sine wave
Kindly fill the form below to order for any product or make an inquiry about our product.

© 2019 All rights reserved. Gennex Technologies Limited is Nigerian's leading renewable energy company with head office in Lagos.
Head Office
Plot 25, Adebisi Ogunnuyi Crescent, off Oladimeji Alo Street, Ikate, Lekki, Lagos
Front Office: 012934490
Hotline Sales
08171936361, 08179462854 
WhatsApp: +2348171936361, +2348179462854