10 KVA Solar System
A 10 KVA solar system can serve as the perfect energy solution if you are looking for a solution that can remedy fluctuating power supply in your home or office space.
Power your office or home electrical appliances with a quality 10 KVA solar system that Gennex Technology can install for you. 10kva off-grid solar system or on-grid system can meet your specific electricity need in your home or workplace.
Not everyone needs a 10 KVA solar system for their home or business. If you leave in one bedroom or two-bedroom flat, a 2kva or 3kva may just be your perfect solution depending on your energy consumption.
But the 10 KVA solution can help you enjoy electricity on your own terms, and increase your property value substantially.
While a smaller solar system may not be able to power air condtioners and deep freezers, the 10 KVA solar system can power your freezers, fridge, TV, airconditionals and more
What A 10 KVA Solar System Can Power
Though the 10 KVA solution may power every appliance you have depending on your appliance, here are some of the things the solution can carry at once.
2 units of 1.5HP AC at a time
The 10KVA Solar Materials
A 10 kva off grid solar system can eliminate your home's dependency on the main energy grid, and help you have money. Using the right solar panels for installation can produce more energy than your house needs. With a good professional installation service, you can enjoy uninterruptible power with peace of mind. Below are items for 10kva solar system installastion.
Solar Panels
The number of solar panel to use would depend on the panel's wattage. For solar panel of 535W, about 16 may be needed.
Inverter
A single 10KVA inverter may be used for the installation or two 5 kva-48V inverters may be used, depending on availability
Batteries
The number of batteries to be used for a 10 KVA solar system would depend on their capacity. For 12V 220Ah batteries, about 15 would be needed.
Other Materials
Other items needed include MC4 connectors, battery breaker, mount accessories, and other installation kits required.
Our 10 KVA Solar System Installation Process
Unlike many solar companies that install solar on the side, solar product sales and installation is all we do. As specialists in the solar space, we take pride in providing top-quality solar equipment, and installing it rightly.
Free Solar Installation Estimate
Our solar assessments are always free for you. We send a trained and certified solar technician to your residence if required for your installation to assess your property. If your property fitness checks out, we then review your energy need and give you detailed estimate of your solar system. But you can get a quote right away if you know your energy need.
Top Quality Products
Just like most products are, solar materials quality varies. Low-quality equipment rarely stands the test of time. That's why our installations are with only top-grade solar panels, wiring, inverters and other equipment products. Top brands in Nigeria choose us because of this.
Expert Installation & Maintenance
Our expert solar system installation will install your 10 KVA system following a dynamic installation blueprint for a lasting solution. We also show how to carry out the minor maintenance service or engage us to do it for you.
Cost Of 10 KVA Solar System
The cost of 10 KVA solar system can vary by certain factors. This is because your location alone can impact your total solution cost substantially. There are several factors that can impact total cost and below are some of such factors:
Products type and location
The quality of the product will either increase or decrease cost. Less quality products are cheaper but have a short life-cycle.  As a general rule, installations done within the city are less expensive compared to those done in remote areas especially when you factor in the cost of logistics.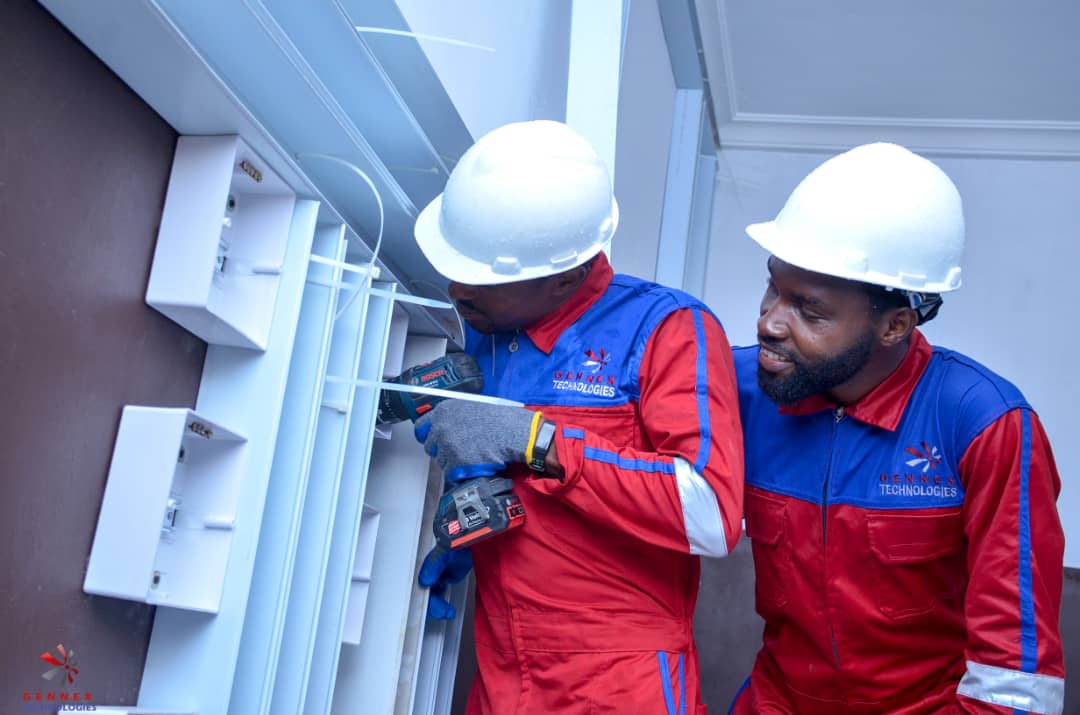 We are a 100% solar solution provider in Nigeria. We have helped many companies and Individuals across the country make a seamless transition to clean renewable energy, whether partial or total. As a leading solar company in Nigeria, our installation processes for longer-lasting solar solutions are dynamic and unparalleled. That is why big brands like Petrocam rely on our cutting edge solar solutions for a total transition from PHCN to renewable energy in all their petrol stations across the country.